Accounts
The CS Department maintains it's own authentication systems for the various services that we provide.
Getting a CS Account
The following steps are necessary to receive an account on the CS systems.
Activate your eID
We only create accounts for students who already have a valid eID from the university. Once enrolled you may get an eID through the following steps:
Go to the eID page.
Follow the instructions there to receive your eID account.
You should receive confirmation of your eID and password immediately.
You may also get an account in person 313 Hale Library. Be sure to bring a valid Kansas State University ID with you.
Apply for a CS Account
Once you have a valid CNS account, you can use the CS Systems page to apply for a CS account. You may do this from any public computing lab or any computer with a web browser.
Go to the Self-Service website.
Follow the link Request a CS Account and follow the instructions on that page.
Most account requests are automatically approved and created within an hour. Accounts that need verification for affiliation with the department may take longer.
When your account has been created, you will be notified by email with further instructions on changing your password and you will be able to use it immediately.
Password Scope
One important concept for managing your username and password(s) is understanding the scope of accounts with CS. The majority of services in the CS department all utilize the central authentication system, but some do not. The following diagram illustrates those differences.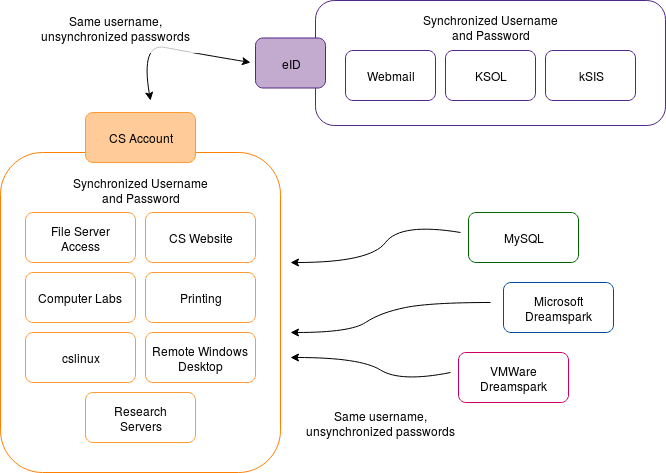 Password Policies
There are policies regarding your password here at CS. More information on that can be found here.
Password Strength
Password strength is an important requirement for CS passwords and can be a little annoying at times for an important reason: the CS department requires stronger passwords than your eID password. A "stronger" password means that it's harder to "crack" using common methods like a dictionary attack or random guess.
For calculating password strength, there are four categories of characters:
lowercase letters
uppercase letters
numbers
symbols
Your password must contain three of those categories.
Please see the page on Password Complexity for specific requirements.
Account Removal and Alumni Accounts
We are often asked, "What happens to my account after I leave?" If you switch majors or are not getting a degree from our department, your account may be removed at any time during a semester your are not currently taking a CS class. We do not offer any guarantee of service for non-CS majors.
If you are an alumni or a student in the department, you may keep your account indefinitely. The only requirement is that you change your password at least once per year. If you do not change your password for more than a year, your account is considered inactive and may be removed. We want alumni to have access to their account after they leave because it is often beneficial for you to have access to some of our computing resources for posting your resume on your personal page, accessing email here, or just as an external location to ping from. The systems staff, however, only provides a minimum of support to alumni because our focus is making computing resources available for current students and faculty. However, if you do have a problem, please make a help request to let us know about it.
When an account is removed, we do not delete any data. At this time, we retain all data stored in a user's home directory (your U: and M: drives) in a zipped archive forever. This may change, but at the current rate of storage cost decreases, this policy will stay in place for some time. Thus, if your account is removed and you get a new one at some later time, you may make a request to have your old data restored from archive as well. Also, if your account is removed and you need something from your old account, we can send you the archive if you send email to the "help" email address and can provide proof that your are the person that the data belongs to.
The policies on your eID are completely separate. Please see this page for official policy regarding retention of your eID and access to KSU IT-related resources.